CORONA VIRUS – COVID 19 UPDATES
Twin Rivers Area of Narcotics Anonymous
Our Message is Simple ♦ An Addict – Any Addict – Can Stop Using Drugs, Lose the Desire to Use, and Find a New Way to Live ♦
♦♦♦♦ Twin Rivers Has Meetings in Easton • Bethlehem • Nazareth • Hellertown • Bangor PA & Phillipsburg, Milford, Belvidere, NJ ♦♦♦♦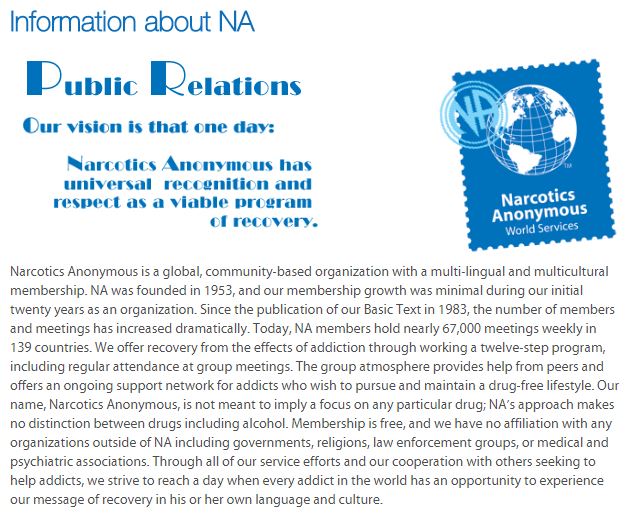 Contains links to items of interest to the general public and professionals about the Fellowship of Narcotics Anonymous
Read more
Calendar of Events
The Activities Subcommittee for the Twin Rivers Area of Narcotics Anonymous is Always Planning Great Events for NA Members! Come Back Often to Stay Informed!
Open Calendar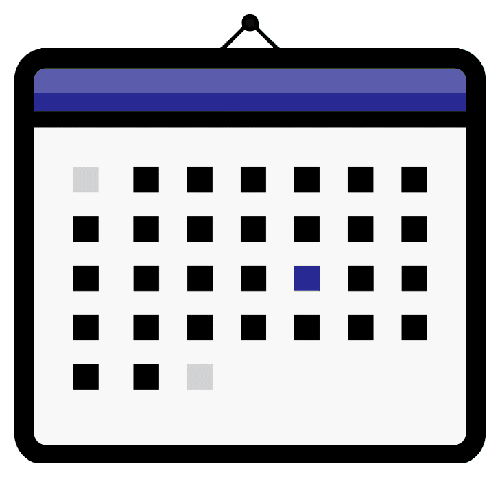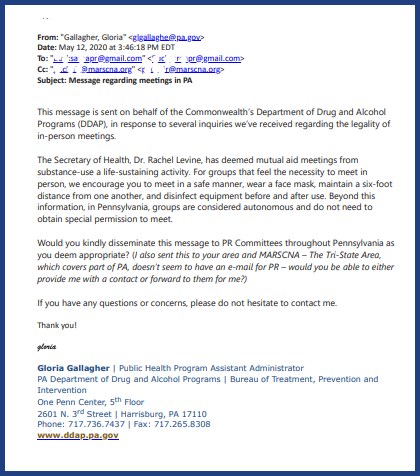 NOTE:
NARCOTICS ANONYMOUS MEETINGS HAVE BEEN DECLARED AS ESSENTIAL IN BOTH NEW JERSEY AND PENNSYLVANIA – HOWEVER, MANY FACILITIES ARE STILL CLOSED. PLEASE CONTACT TWINRIVERSNA@OUTLOOK.COM IF YOUR MEETING OPENS! MEETINGS MUST FOLLOW CDC GUIDELINES AND MEET IN A SAFE MANNER IN ORDER TO BE IN COMPLIANCE WITH THE SOCIAL DISTANCING ORDER.
Urgent Area Announcements
♦♦♦♦
Click the FIND A MEETING (located at top of this page FOR ALL IN PERSON MEETINGS IN THE TRI AREA OF NARCOTICS ANONYMOUS
MEETINGS OPENED ARE FOLLOWING CDC GUIDELINES
One Primary Purpose at 815pm to 915pm  3410 Bath Pike 2nd floor, Bethlehem  must use white stair case located to left of the building
Creative Action at 10am, Saturdays at Louise Moore Park 151 Country Club Rd, Easton,   West Parking Lot behind pavilion #2
 Gift of Life at 730pm  on 400 Berwick St, Easton PA  Fridays
The Message Group  Thursdays
WITS  Wednesdays 
A Safe Place opens Wednesdays
One Addict Helping Another Thursdays
Primary Purpose  ( held on Front Lawn)  Tuesdays
Freedom Thru Fellowship 3730 Jacksonville Rd(Pavillion) Saturdays
If a Meeting is cancelled last minute FOR ANY REASON, please text (386) 848-3033  with "TRANA meeting update: (your message)" so we can update the website in a timely manner, or email TwinRiversNA@outlook.com
This Section Last Updated on 9/22/2020 Contact Us if You Need Updated Information
♦♦♦♦♦
If Your Homegroup is Not Meeting on Schedule for Any Reason, Please Email TwinRiversNA@outlook.com to Have Your Announcement Listed here.
See the Calendar of Events for Regular Announcements
Questions? Need Help? Need Someone to Talk to About Your Problem?
TOLL-FREE HELPLINE:  844-624-3575